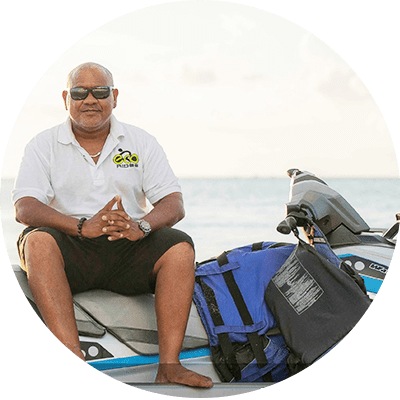 Shane Nobee Edwards, a Jet Ski Aficionado and nature lover, has turned his passion for personal water sports and natural adventure into a drive to improve his community and the young people around him.
He is the founder and president of Team 2Frenzied, which organizes an promotes the ever popular Jet Ski race in the community of East End called the East End Surf Challenge. The East End Surf Challenge has grown to a signature event that brings mixture of diverse cultures to the district of East End to take part in the range of activities surrounding the event. Some of the associated events are; the Fish Tea Cook-off which connects with the community's reputation for serving up great seafood and The Captain Leroy Watson Sailing Regatta which was created as a tribute and memory to Captain Watson a native of East End who was the first colored Captain to sail into South Africa.
Shane Edwards and indigenous Caymanian, was born in George Town, Grand Cayman on 17th January 1970, his sense of community and altruistic endeavors were nurtured quite early growing up in East End.
Shane a graduate of Triple C' School, furthered his education with a Bachelor's degree in Accounting and a minor in Finance from the University of Tampa. Following graduation in 1994 he worked with the Cayman Islands Government with the Cayman Islands Audit office as a Legislative Auditor for over sevenyears then moved to the Civil Aviation Authority as the accountant/ Assistant Financial Controller. He later moved to the private sector as Financial Controller for Cayman Medical Supplies a growing pharmaceutical and medical supplies wholesaler.
Over the years Shane has worked in the financial arena in Mutual Funds as an Account Manager and in Corporate Services as a Compliance Manager/Corporate Accountant. In addition, he served as part time office manager for the Cayman Islands Olympic Committee and has been active with the East End Pirates Week Committee and the East End Bonfire Committee where he was once appointed treasurer.
Shane has also created a Not-For-Profit Organization named 2Frenzied Foundation which is a spin off from his community involvement for which the main focus is to establish a scholarship fund to assist with further education for the East End Community.
Shane's focus is to continue to make valuable contributions to the community of East End and the Cayman Islands as a whole by actively assisting with the development of the youths and various community outreach projects.